OEM IN THE NEWS:
OEM Data Delivery Responds to COVID-19 Concerns in the Field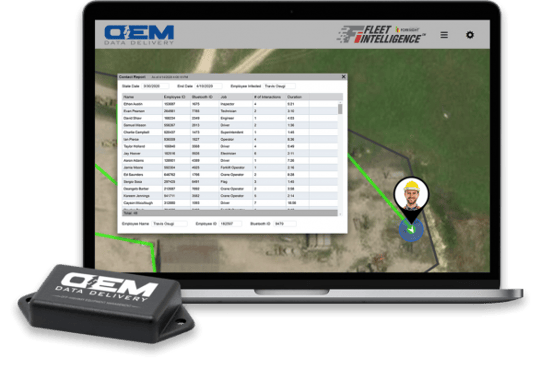 OEM Data Deliver has partnered with Foresight Intelligence to develop a telematics-based pandemic management tool against COVID-19.
The tool, named CrewStrong, has been developed to offer "a safe return to offices and job sites" with the advanced tracking capabilities of pairing small and discreet BT5v Bluetooth tags from OEM Data Delivery with Fleet Intelligence's patent-pending geofence technology to track crew members while they are on site.
If a member of a team tests positive for COVID-19, managers can access a report through a dashboard that lists that individual's every interaction within a particular radius for any previous time period selected.
The Bluetooth tag can be attached to any worn item such as a hard hat, badge ID, or key ring. Broadcast Bluetooth technology works differently than pairing technology. Broadcast will only be received on job sites or selected work zones. Once an employee leaves the designated sites, the device is no longer being tracked.
This alleviates compliance and tracking concerns that can come into play with other application-based tracking platforms. This solution offers full detailed reports as well as "congregating warnings" to ping certain selected team members when there are more than the allotted amount of team members gathering in close proximity for more than a selected chosen time limit.
"It is important to have solutions that are relevant to the need and timing of where the industry is...especially in times such as where we are now, globally," said Dale Hanna, CEO & founder of Foresight Intelligence. "Being a business intelligence platform, we are quickly able to create solutions that our customers may need to keep their business moving forward, and right now, one of the primary concerns is not only job site safety, but health and awareness."

Find the corresponding article from Construction Equipment HERE
Source: Construction Equipment & Foresight Intelligence